What's New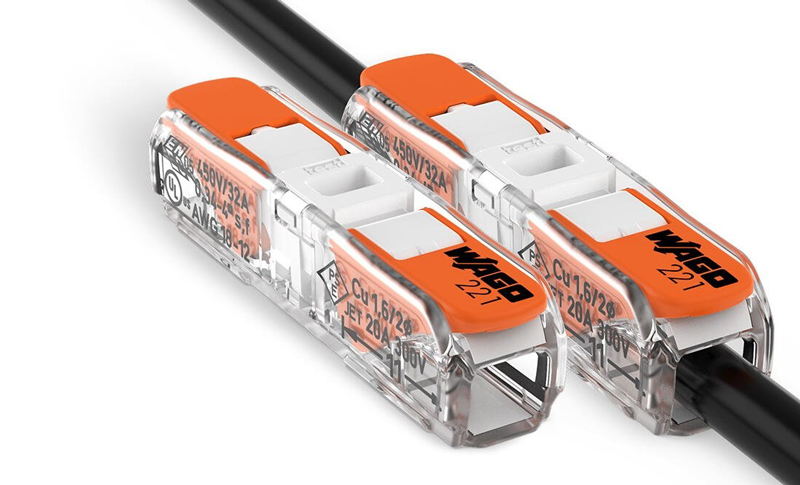 WAGO 221-2401 Inline Splicing Connector With Lever
The new 221 Series Inline Splicing Connector with levers combines all the trusted advantages of the 221 Series Splicing Connectors in a slim design. Offering unsurpassed simplicity, speed and reliability, the 221 Series provides universal conductor connections – with lever technology that eliminates tools – while offering a visibly secure conductor contact.
Where multiple poles are required, optional adapters provide completely modular mounting. Get the flexibility of having up to five fixed-position poles in one adapter (with or without strain relief) for adhesive, tie-on or suspended mounting or placed on a DIN Rail with a screw or snap-in Mounting foot.

Shop WAGO Products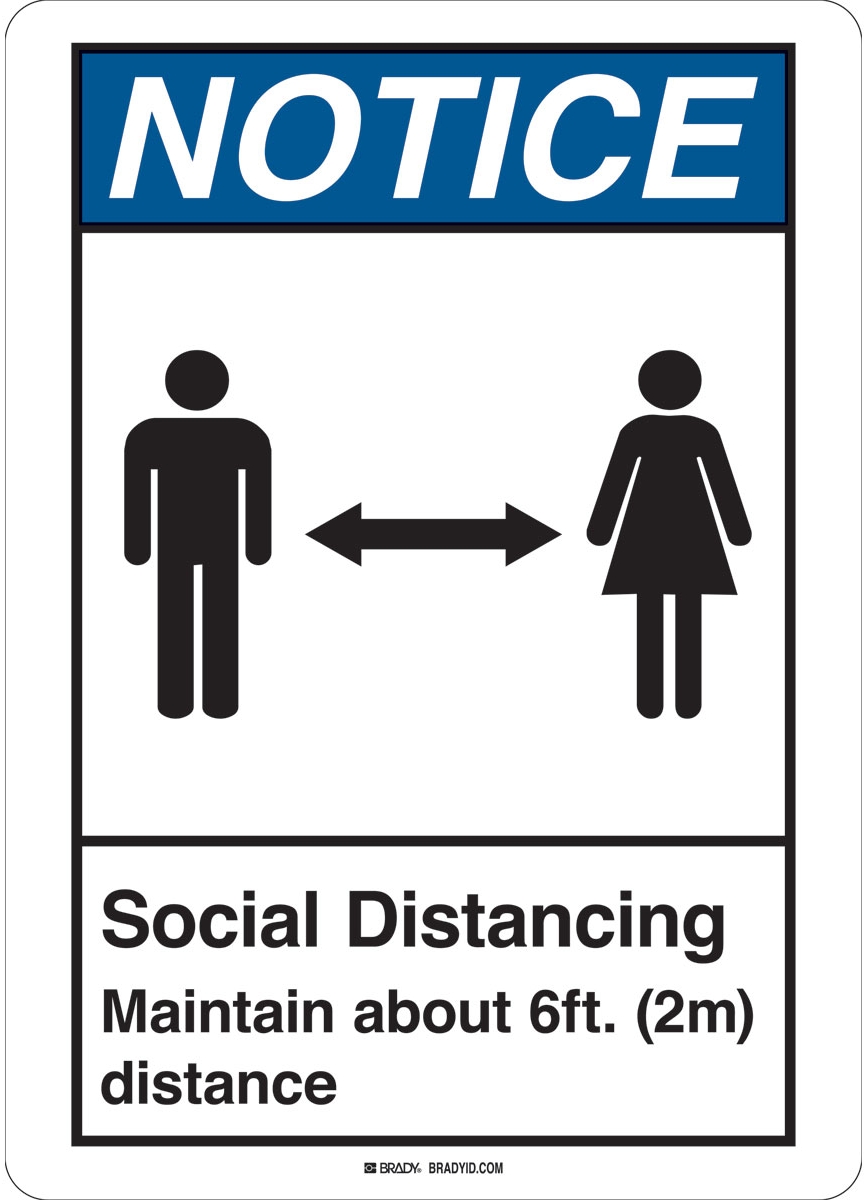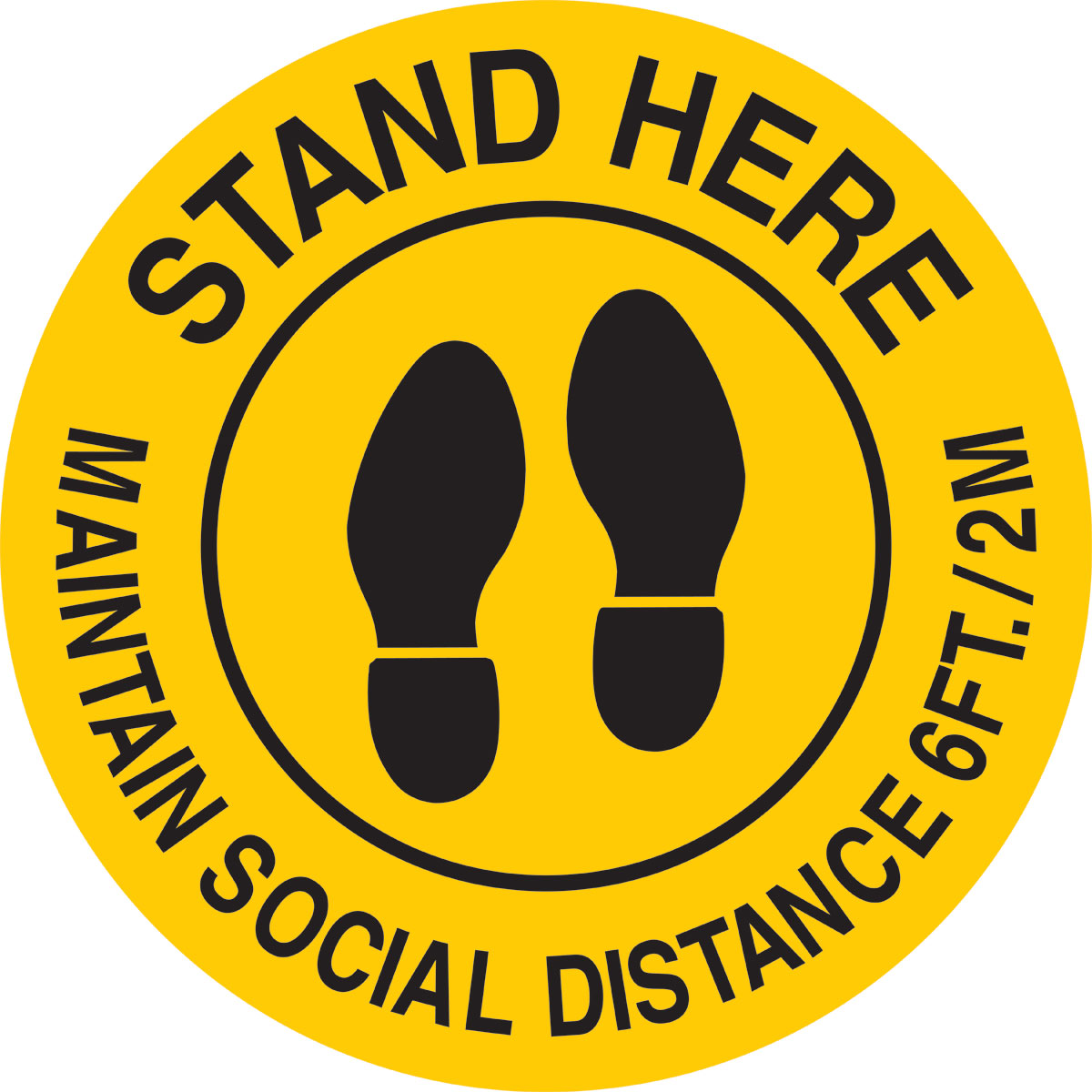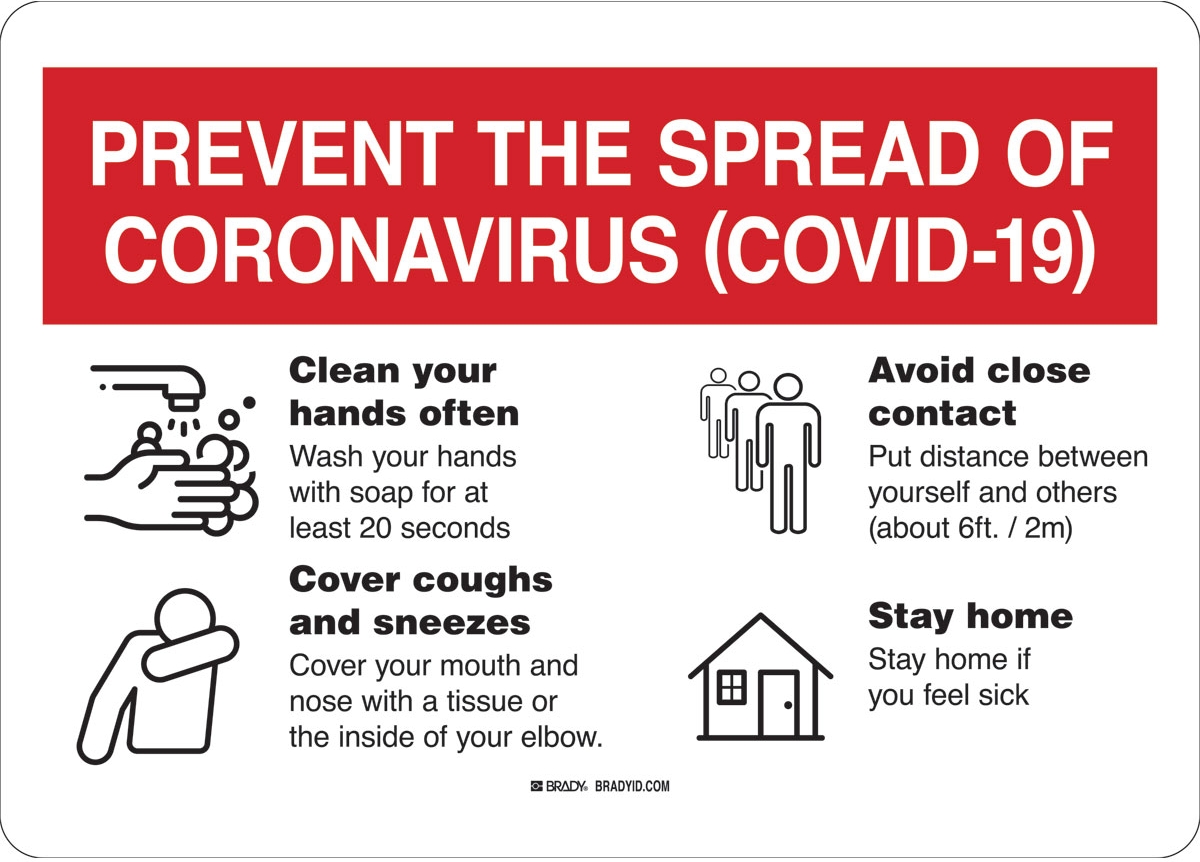 Help stop the spread - COVID-19 Safety Solutions.
We are supplying signs and signage solutions to help fight COVID-19. With healthcare and public access signage as priority, these signage solutions are key reminders of what to do to help stop the spread of the virus. From signage, posters, printing systems and more, we are ready to assist you.
Contact us for the complete line of covid-19 signs that are available!

BACO Introduces Its New Defeatable Disconnect Switch Handles.
BACO Controls has announced the availability of robust new pistol-style interlock handles for the disconnect switch range. These handles are available in both yellow/red and black/grey colors, IP66 rated and UL/NEMA Type 1, 2, 3R, 4, 4X, 12 and 12K.
Suitable for indoor and outdoor use, the handles are compatible with all the BACO switches, 25A to 100A. They are defeatable, allowing access to the panel in the ON position for qualified service technicians.
BACO Controls disconnect switches feature unequaled modularity, ease of installation,flexibility of use and compactness for any customer application. BACO has long been recognized as a leading worldwide manufacturer of components for industrial automation, including disconnect switches, pushbuttons, emergency stops, selector switches, pilot lights, control stations, cam switches and time switches.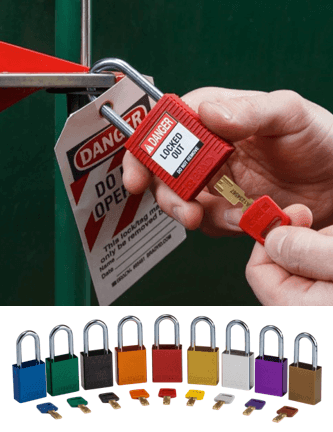 Introducing the New BRADY SafeKey Padlocks
Ultimate key precision and advanced key security
700% more unique key codes (more than 100,000) than traditional padlocks
Ideal for extensive and complex padlock systems (master, grand master key) in large applications
Three Lock bodies, two shackle materials, three shackle sizes, nine colors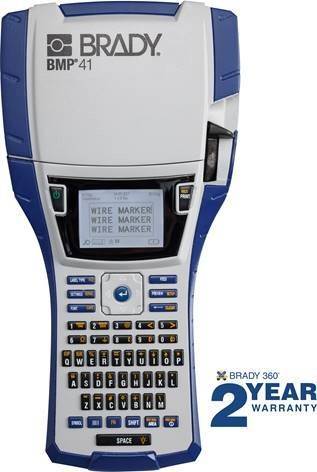 Brady's BMP®41 Label Printer
The BMP®41 Portable Label Printer is a mid-range handheld labeling solution that can print die-cut or continuous labels up to 1 in. wide and up to 300 labels per day.
A rugged printer build to withstand harsh conditions with additional protection to survive falls of up to six feet high
With an ergonomic design, long rechargeable battery life, and easy-to-use features, this printer is engineered for the worker on-the-go
Quick-load, drop-in cartridges up to 1 in. wide for quick supply change and automatic label formatting
Large 2.6 inch graphical LCD display with backlight to see exactly what you're printing

Brady's BMP®61 Label Printer
Brady's BMP®61 label printer is designed for quick and efficient identification of wires, cables and components. With high performance materials that can handle the toughest industrial identification applications, this printer is your rugged and reliable partner in the field and dependable workhorse in the shop. It features multiple user interfaces, touch screen capabilities and a variety of ways to connect, manage and save your data.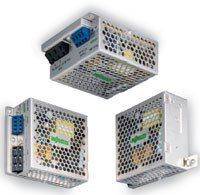 New Product Release: EPSITRON® ECO Series 787-17x2
Provide reliable 24 VDC power in a space saving package at an economical price. WAGO's new EPSITRON® ECO Series 787-17x2 power supplies can be mounted in a variety of ways maximizing application Flexibility. Key features include:
cULus 508 Listed - allows for use in any panel
EN 60335-1 - allows for use in residential and commercial appliance applications
DIN-Rail or chassis mounting options included with product
Fast, vibration-proof and maintenance-free CAGE CLAMP® connection technology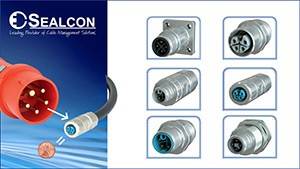 Sealcon's M12 Power Connector- A major milestone in an age of miniaturization
Harnessing a host of new technologies and materials, Sealcon has brought the M12 Power Circular Connector to market. Featuring a robust nickel plated brass or optional stainless steel housing, the M12 connector is ideal for every application from robotics to heavy duty industrial applications. With benefits of high power capabilities and a compact size, this is the solution that engineers and designers have been looking for. This compact and powerful connector removes the bulking large connectors and provides the same if not better protection for multiple high Amp/Voltage applications.
At a glance:
Power Transmission: 16 A and 630 V
Temperature Rating: -40°C - 125°C (-40°F - 257°F)
Conforms to Global Norms: IEC 60112-2 / UL Pending
IP 67 / IP 69K Rated
Number of Position: 4 & 5 Contacts: Crimp & Screw
High Germany Quality Products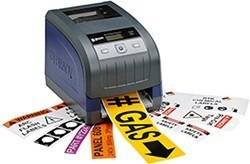 Brady Industrial BBP33 Label Maker that's simple and fast!
The BBP33 Label Maker is an industrial label printer that's simple, powerful and brilliantly fast. This label maker features full hassle-free operation with automatic label set-up, no calibration, no sensor adjustment and no label waste. The BBP33 printer also makes it easy for material changeovers. With foolproof "drop-in" ribbon and cartridge labels, all you have to do is drop-in the cartridge, lock and start typing. It really is that easy!
Product Release: 221 Series LEVER-NUTS® - Splicing Connectors for Rapid Reliable Installation
WAGO's next-generation of all-around connectors the 221 Series saves 40% more space in the junction box; providing simple, safer installation of solid, stranded and fine-stranded wires. The 221 simplifies electrical installation even in the most space-restricted applications. Featuring:
Transparent housing that makes it possible to verify proper insertion and strip length
Operating levers that can be manipulated using noticeably less force
Permissible nominal current of 20 A with a nominal voltage of 600 V
Conveniently accessible test slots, in the wire-entry face and one opposite for easy testing
The 221 Series is available in 2-, 3- and 5-wire connectors and can safely connect wires ranging from AWG 12 to 24 (0.14 to 4 mm2). These options provide reliable connectivity for applications ranging from building technology, lighting connections, blind motors, wiring of intercom systems, door and gate control systems as well as motors and pumps for industrial applications.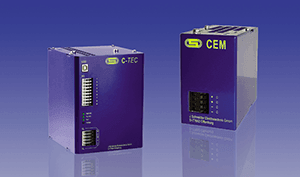 New Altech Product Replaces Traditional Battery-Based Back-up System
FLEMINGTON, N.J. – Altech Corp announced today a new product that will revolutionize the future of DC back-up power. Altech's Ultra Capacitor Modules DC/UPS can be used in place of a battery system to ensure back up power. They are Din Rail mountable, virtually maintenance free and carry none of the hazards of a battery. Voltages include 12V and 24V DC from 1000 up to 10,000 Watts of energy in a standard unit. Extension modules are available to provide even more energy if needed.
Plus, Altech's Ultra Capacitor Modules have five times the life span of a traditional battery. This reliability makes the Ultra Capacitor Module the cost effective choice to ensure that critical information and functions are available when supply voltage dips, sags, drops out or surges.
Ultra Capacitor Modules are environmentally safe, and can withstand a temperature range from -40ºC to 65ºC without derating. Its double-layer construction adds an extra measure of strength and security to its operations. Since there are fewer parts, the Ultra Capacitor Module reduces installation and maintenance costs.
For DC back-up power requirements in Industrial Control cabinets Altech's Din Rail mountable Ultra Capacitor Modules are the ideal answer for worry-free power continuity.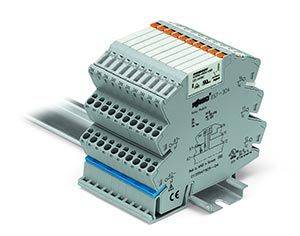 WAGO 857 Series
WAGO 857 Series relay and optocoupler modules are supplied in 6mm wide housings and share a common profile. The modules feature a single, flexible in-line jumper system eliminating discrete wiring. The pluggable relays can be replaced quickly and easily when needed. An optional interface adaptor plugs on the input or output side, combining eight modules and connecting them via a cable to reduce wiring time and errors. Integrated LED status indication, wide input voltage ratings from 5-230 V AC/DC and up to 6A switching current make the 857 Series a versatile solution for your automation requirements.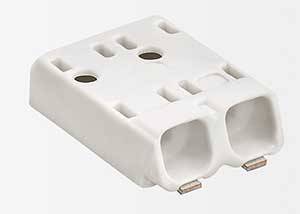 Micron SMD
Our "little one"
MICROCON SMD, a miniaturized PCB terminal in SMD technology, is an ideal wire-to-board element for LED modules thanks to its small size. Small in size but big on performance – this terminal with its optimized insertion funnel is extremely versatile. The terminal is suitable for manual wiring and for automatic wiring, and for flexible or rigid conductors.
At a glance: MICROCON SMD
PCB terminal with 1 or 2 poles
Mounting height 3.5 mm
The conductor is detached by means of a pin or by twisting and pulling.
Manual wiring or automatic push-in wiring
For flexible and solid wires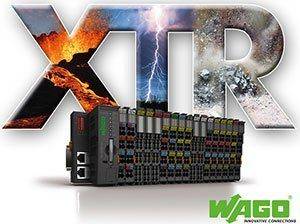 Unlimited Automation in Extreme Environments – the New WAGO-I/O-SYSTEM 750 XTR
We automate where others capitulate: The WAGO-I/O-SYSTEM 750 XTR not only stands out in extreme temperature environments of -40 °C to +70 °C. Its high impulse-voltage withstand also makes XTR the efficient and reliable solution for energy and process technologies.
XTR – is our abbreviation for extreme protection against climatic influences, vibration, impacts and surge voltages. These conditions occur primarily in places in which technology is exposed to weather conditions, for example in the sector of renewable energy sources such as wind power, photovoltaic plants or in transformer stations. The automation systems used in these sectors often require additional and expensive protection features to "defy" the climatic and mechanical forces at work on them.
XTR can be used without any additional measures, thus reducing the space requirements on the DIN rail, while reducing energy and maintenance costs and enhancing productivity. All of these features make the XTR the perfect "all-in-one" solution for feed-in management and monitoring of power distribution grids.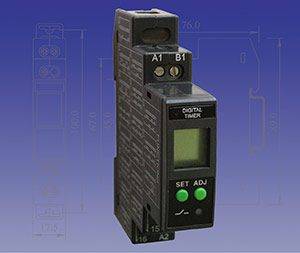 Altech Multi-Timer Flips Your
Switch For You
FLEMINGTON, N.J. – The Altech Corp.® Universal Digital Multi-Timer AMT Series delivers the ultimate solution and the highest flexibility in controlling the on/off cycle of equipment operations. From its LCD display and compact size to its wide timing range and multifunctional ability, the Universal Digital Multi-Timer allows customers hands-off operation that can be customized to meet their service needs.
Two defining features of the multi-timer is its three-digit LCD display for preset and run times and its programmable timing range from 0.10 s to 999 hrs. The Universal Digital Multi-Timer is part of Altech's successful and reliable AMT (Altech Multi-Timer) Series.
The timers are maintenance free, dependable, competitively priced, and save resources and energy.
Additional features include: timing functions of 8 or 18, 8A relay outputs, universal supply voltage 24~265 VAC/ DC and DIN rail mountable.
New comprehensive line of electrical and electronic switches and sensors for safety and control applications.
Altech/Bernstein AG is an established manufacturer of high quality electromechanical low voltage switching and sensing devices. Their products are used for both safety and control in a large variety of applications, including the elevator, wood-working, packaging, food processing, metal and the machine tool industries.
Bernstein's safety products feature a comprehensive range of switches which fully meet the relevant safety requirements for many applications.
In addition to functional reliability and high quality, Bernstein switch and sensor systems also efficiently save installation and machine downtime.
Their product range includes:
Limit and Position Switches
Keyed Safety Switches
Locking Safety Switches
Safety Rope Pull Switches
Hinged Safety Switches
Foot Switches
Non Contact Safety Switches
Inductive, Capacitive and Optical Sensors
Float Switches
ASi Intelligent Switches
ATEX Approved Switches and Enclosures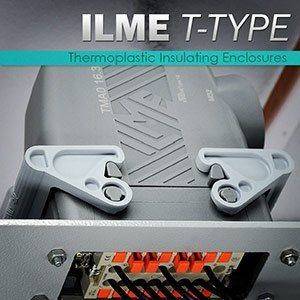 ILME- Introducing Quality and Low cost Thermoplastic Insulating Enclosures!
Quality and low Cost are the main features of these enclosures. Made of self-extinguishing thermoplastic material, they are structurally solid and mechanically robust, yet less expensive than the standard aluminum housings. They are currently available in the standard 06, 10, 16, and 24 housings.
Besides T-Type housings offer the following advantages:
Resistance to chemical agents, found in industrial environments
Pre-fastened gaskets for easier installation
Similar External dimensions to the corresponding metallic enclosures
Ample space inside enclosures for cables similar to the corresponding metal high construction versions
Possibility of making completely insulated constructions
The surface mounting high construction housings are supplied with an open threaded entry and diametrically opposite a closed threaded entry, which can be opened by the user, if required
Absence of powder paint for environments
Non-electrostatic thermoplastic material
Does not require special reinforced insulation
IP65 and UL Type 12 (= NEMA 12) degree of Protection rating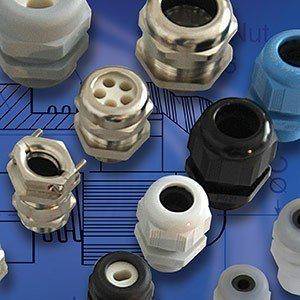 Altech Liquid Tight Strain Reliefs provide water tight seal for cable entries.
Altech's full line Liquid Tight Strain Reliefs (Cord Grips) are used to seal cable entries, keep contaminants from entering enclosures, provide strain relief and thus reduce stress on components and termination points inside enclosures. Functions include Straight-Through, Increased Strain Relief, Bend Protection, Pull/Bend Protection, Multi-conductor, Flat Cable and EMI/RFI. They can be used with almost any type of cable, cord or conductor - solid, stranded, flat, shielded, high temperature, etc.
Standard Straight-Through
Suitable for most applications.
Industrial Straight-Through
Industrial Flat Cable
Industrial Multi-Conductor
Atex
EMI/RFI
Pull/Bend Protection
Locknuts
Reducers, Enlargers and Thread Adapters
Hole Plugs
Seal Rings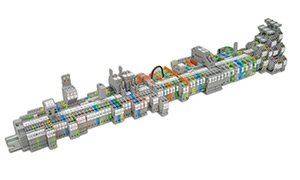 TOPJOBS® Terminal Blocks
TOPJOBS® Terminal Blocks feature a reliable connection even in harsh environments, as well as maintenance-free and time-saving wiring with direct push-in of solid or ferruled wires and screw driver actuation for stranded wire. The offering accommodates wire ranging from 24 to 4 AWG with UL/CSA ratings up to 85 A at 600V and a 100kA SCCR. The exclusive jumper retention spring ensures a reliable connection, and TOPJOBS® boasts the most jumper options: push-in adjacent jumpers, endless jumpers, step-down jumpers, wire jumpers, slim style staggered jumpers as well as vertical jumpers. Saving time and money is also realized with the efficient marking options. WAGO offers the industry exclusive continuous marker strip with multi-line marking – more details means less wiring errors.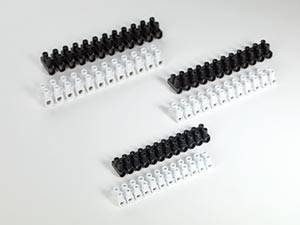 Tridonic EKL series
The EKL series comprises a wide variety of UL-approved screw-type terminal blocks, ranging from AWG 22 to AWG 2. EKL connector strips are available in PA natural, glass-fibre reinforced and flame protected material. There are versions with and without wire protection. Established temperature ratings and a stable torque round off the characteristics of the EKL series.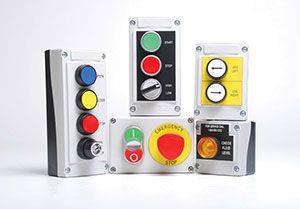 Customize your controls!
BACO Controls offers push button switch enclosures that can be customized to your specifications. Buttons and enclosures can besilk-screened with text and graphics or for faster delivery we can laser engrave custom nameplates.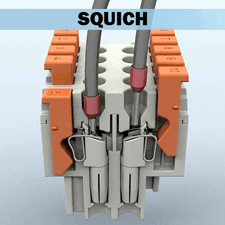 Introducing the ILME CSH series of inserts "SQUICH" Connections without tools!
Cabling time : 50% quicker than the screw-type connection and 20% quicker than the conventional spring-type connection, and CSH connector inserts can be mated with the corresponding inserts of series CNE, CSE, CCE, CTE, CTSE, CN, CT and CSS.
The CSH series "SQUICH" offers the following advantages:
Reduced cabling time
No need for tools
Quick identification of cabled and non-cabled terminals
Terminals already opened for conductor clamping
Possibly to use wires with or without femaile of up to 2.5mm2
Each of the spring terminals has an actuator button incorporated in the cavity. When this button is pressed with a finger, it triggers the closure of the spring device of the corresponding terminal, safely and reliably connecting the conductor to its respective electric contact in the connector. To reopen the terminals, simply insert the tip of a common 0.5 x 3mm flat blade screwdriver in the pocket on the actuator, and using a levering motion, gently press the screwdrivers downwards. This will lift up the actuator back to the "open terminal" position. ILME CSH series "SQUICH" is available in 6, 10, 16, 24, 32 and 48 pole configuration.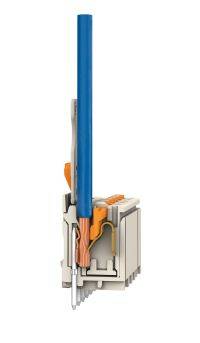 WAGO picoMAX® Pluggable Connection System
WAGO's picoMAX® is a complete pluggable connection system featuring a radically simplified contact design that reduces size, while increasing performance and connection integrity as compared to competitive pluggable products. The pluggable connection system accommodates conductors 24-12 AWG and carries ratings up to 15 A/600V. Configurations: 2-12 poles for wire-to-wire, wire-to-board, board-to-wire and panel feed-through designs. Applications: industrial electronics such as panel meters, controllers, data loggers and consumer electronics, e.g., garage door openers.
WAGO pioneered spring pressure termination technology, fast becoming the superior termination method in the industry in terms of reliability and ease of use. Now, the all-new patented picoMAX® Pluggable Connection System brings this spring pressure termination technology to the next level in its evolution and design.
WAGO's picoMAX® utilizes a single, stainless steel, dual-purpose spring to encompass two core functions of a pluggable system: to clamp the conductor and connect to the mating pin. A simple, truncated contact bridge replaces the traditional socket contact, reducing the complexity of the connection and effectively eliminating a connection point. The innovative design has a shortened current path, minimizing contact resistance and increasing connection and signal integrity in operating temperatures up to 125°C.
Wiring picoMAX® is fast and efficient
Unlike crimp-style connectors, picoMAX® contacts are self-contained – the sockets, pins and wire termination elements are built in to the connector – ready to accept stripped wire. picoMAX® eliminates the crimp process and the associated tooling investment. The pluggable connection system features integrated pushbuttons to be depressed in order to accept or release stranded conductors. It's CAGE CLAMP®S spring further speeds wiring by allowing for push-in connection of solid or ferruled conductors. Wiring is easy and obvious for worldwide installations without the need for special tools.
picoMAX®'s revolutionary, yet simple, design increases vibration resistance up to 20g. The dual-purpose spring provides dynamic contact force that automatically adjusts to environmental impacts like vibration, thermal cycling and corrosion – all of which can cause other connectors to prematurely fail. Fully shrouded by the male counterpart when plugged, the female connector automatically locks in place, preventing unintended disconnection and further aiding shock and vibration resistance.
WAGO is the leader in spring pressure connection technology that eliminates loose wires resulting from vibration and temperature cycling, while providing highly reliable, corrosion-resistant and maintenance-free connections. For additional information, visit www.wago.us. Contact WAGO at 1-800-DIN-RAIL or info.us@wago.com.
Complete Line of UL certified UL489, UL508 and UL1077 DIN Rail Miniature Circuit Protection Devices. The Altech Advantage
In today's very competitive marketplace you need reliability, so you need to use circuit breakers that are high quality and technically correct for your application. Altech is a US leader in DIN rail mounted breakers with ratings up to 63A. Only Altech offers DIN rail mounted breakers that meet UL489, UL508 or UL1077 approvals with a short circuit interrupt capacity of up to 10kA. No other manufacturer offers this complete line. This assures you the right product for your application requirements.
UL489
When you need branch circuit protection, Altech offers UL489 Miniature Molded Case Circuit Breakers in both AC and DC voltages. The AC version offers dual voltage rated circuit breakers at 0.2-63A/240VAC and 0.2-32A/480Y/277VAC in 1-3 poles. Altech is the only company that offers a 14kA, 20A C curve single phase breaker at 277V AC. The DC version offers 0.2-63A at 125V (1 pole) and 250V (2 pole).
UL508
If your application requires a manual motor controller, Altech is the leading US supplier of UL508 Manual Motor Controllers (MMC). In AC, we offer up to 60A in 1 to 3 poles at 480Y/277VAC. With 6 trip curves, Altech has the largest selection in the industry. This ensures you the selectivity you require for your application designs. Our MMCs have a 10kA short circuit withstand capacity, this is the highest rating in the industry. The AC version is rated up to 60A and is DC?rated in 2 poles up to 80VDC.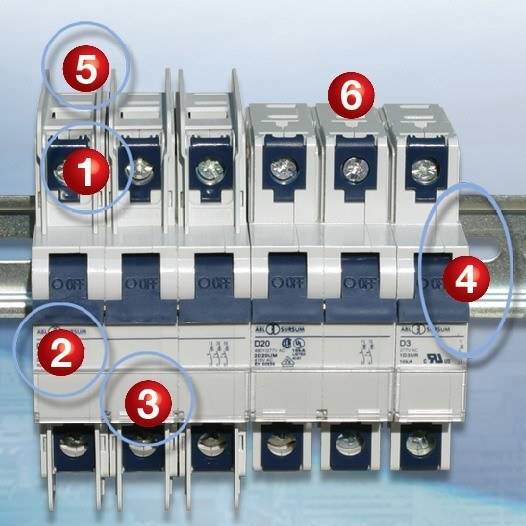 UL1077
When your application requires supplemental protection for control circuits and on the load side of branch circuit protectors Altech has solutions. We offer a competitive line of AC Supplementary Protectors, up to 63A, in 1 to 3 poles at 480Y/277VAC with a 10kA short circuit withstand rating.
Hinged terminal cover design allows easy access to terminal screws with a broad range of screwdrivers! The possibility of breaking the housing is minimized even when using a wide shank screw driver.
Individual Part Number is shown on each circuit breaker and is legible when installed in the panel.
Designated marking area is protected with clear hinged cover.
DIN Clip can be easily released when necessary.
Flexible replaceable terminal barriers reduce the possibility of breakage if accidentally dropped!
Dual connection terminals. box and screw terminals for solid wire, forked cable lug and ring tongue.
The Industry Leader in UL Circuit Breaker Devices - Click here to watch video
We are proud to offer products from these quality manufacturers: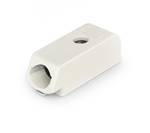 WAGO - WAGO Corporation introduces the new 2059 Series SMD PCB Terminal Blocks with conductor release, ideal for PCB-based LED lighting.
The perfect connection for LED arrays from an LED driver, the 2059 Series accommodates a range of conductors from AWG #26 - #22, making it highly versatile for worldwide applications.
The surface-mount terminal block features CAGE CLAMP®S connection technology, which allows for PUSHWIRE® connection of solid or pre-bonded conductors. The cost-effective 2059 Series is a manufacturing-friendly, repeatable alternative to hand-soldering leads. With easy handling via side-entry wiring and top-of-unit actuation, the 2059 Series is available as 1-, 2- and 3-pole variants. Terminal strips of different poles can be assembled side-by-side without pole loss, allowing for a reduced number of variants and lower production costs.
A total height of just 2.7 mm helps conserve space and reduce shadowing in LED applications. As an exclusive feature in this size, the conductor release mechanism enables wire removal in the case of wiring errors or at the end of a module life. The 2059 Series is available in tape-and-reel packaging for automated assembly. A smaller variant than the field-proven 2060 Series, the new surface mount PCB terminal block features 3 mm pin spacing with a 3A current rating and up to AWG #22, as well as a rated voltage of up to 600V (1P).
The surface mount terminal block is especially suited for solid state lighting applications that often utilize metal-core PCBs, where SMD technology and low profile are desirable features. As the industry's most compact and easy-to-use AWG #22 SMD terminal block for wiring industrial electronics and LED modules, the 2059 Series sets new standards for compact wiring applications.


Amphenol PCD - Online Electronics now supplies Amphenol PCD products. Amphenol Pcd is a world market leader in avionic relay sockets and junction modules; and the leading US manufacturer of pluggable terminal blocks and interface modules for industrial applications.