Red Lion – Industrial Control Products
On-Line Electronics represents the full range of Red Lion Industrial Control Products in our Prescott Valley warehouse. "We will ship today. Overnight shipping"
We offer a complete line of products from Red Lion industrial control products which includes HMI operator panels, visual management, panel meters, managed ethernet switches, cellular routers, RTUs and I/O modules, data acquistion, software and firmware, and PID controllers. The On-line Electronics line of products is the most extensive offered in the industry with very competitive prices.
Please contact us or use our online quote request form for more information.
Industrial Automation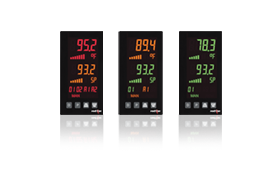 Process Control
PID Controllers
From single to multi-point control, Red Lion has the right PID controller for any application. Red Lion provides a wide range of proportional-integral-derivative (PID) controllers that are rugged, reliable and easy to deploy. Our PID controllers offer industry-leading features and reliable performance designed for the most demanding applications.
Data Acquisition
Red Lion provides high-performance and feature-rich products for applications requiring protocol conversion, including the Data Station Plus and the high-density Modular Controller to help optimize your integration time and costs.
RTUs & I/O Modules
Red Lion's Sixnet® series industrial RTUs are available in a wide variety of models and are ideal for advanced automation environments.
Signal Conditioners
Red Lion® provides a broad selection of signal conditioners for frequency, temperature and process applications. Our signal conditioners range from dedicated to universal models capable of accepting over 100 inputs, which allows these units to be used almost anywhere.
Sensors
Red Lion® provides a wide variety of sensors to work in conjunction with your panel meters and controllers. Red Lion's sensors have been specified and and tested to work with our products. Sensors include analog, digital and other process specific sensors, you should feel confident in the quality and performance of this equipment.
Process Control Accessories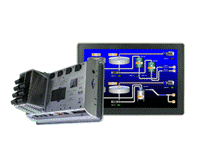 HMI & Panel Meters
HMI Operator Panels
Sleek. Rugged. Flexible. Red Lion Is Your Choice for HMI Panels.
From factories to extreme remote locations, Red Lion's HMI solutions enable customers to easily connect, monitor and control processes across a diverse range of industries that include manufacturing, oil and gas and water/wastewater.
Panel Meters
Red Lion offers the widest range of panel meters in the industry. Our meters are available in various sizes and capabilities including count, rate, time, voltage, current, process, strain gage and temperature inputs. With almost 4 million units sold, our panel meters are field proven, time tested and have earned the distinction of being the industry's #1 brand for 14 years and counting.
Large LED Displays
Red Lion offers a wide range of large LED displays with multiple inputs and optional output cards to meet a variety of visual display needs. Our large industrial displays are available with up to 4 inch (101 mm) tall characters and can display up to six digits to provide reliable visual display performance in industrial environments.
Visual Management
Red Lion's ProducTVity Station is a ready-to-deploy plant floor visual management system that displays real-time Key Performance Indicator (KPI) data and Andon messages on large televisions to drive efficiency. Ideal for factory floors, processing plants or any place where performance needs to be tracked and monitored, this visual management system lets you create sophisticated production scoreboards using standard, consumer-grade LCD, LED or plasma TVs.
HMI & Panel Meter Accessories
Industrial Networking
Ethernet Switches
Unmanaged
Monitored
Red Lion offers a wide selection of industrial Ethernet switches with monitoring features. These switches offer the simplicity of an unmanaged switch with advanced diagnostic capability. They are designed to perform in harsh environments and offer best-in-class performance with ease of deployment.
Managed
Red Lion offers a wide selection of managed industrial Ethernet switches. Managed Ethernet switches provide the ability to configure port settings, manage network performance and monitor your LAN for critical issues. Red Lion's managed industrial Ethernet switches are designed to operate flawlessly in harsh environments and offer best-in-class performance.
PoE Solutions
Red Lion's wide range of industrial Power over Ethernet (PoE) solutions are designed to transmit power and data over Ethernet, eliminating the need to run separate wire.
Routers
Red Lion's Sixnet® series RAM® 6021 industrial wired routers offer secure and reliable communication to remotely deployed assets. The rugged RAM 6021 routers are ideal for connecting to Modbus or DNP3 devices such as SCADA servers, PLCs and other automation equipment located in harsh environments.
Wi-Fi Radios
Red Lion's N-Tron® 702-W industrial Wi-Fi radios offer outstanding performance and extreme reliability under the harshest conditions. IEEE 802.11n support allows our Wi-Fi radios to utilize three antennas and Multiple-In, Multiple-Out (MIMO) technology for increased data throughput, while also providing 802.11a/b/g backwards compatibility.
Ethernet Switch Accessories

Cellular M2M
Cellular Routers
Red Lion's Sixnet® IndustrialPro® SN-6000 series cellular routers offer secure and reliable remote connectivity to deployed assets that utilize cellular carrier networks. Ideal for harsh environments, our rugged industrial routers provide easy wireless communication between SCADA servers, RTUs, PLCs, remote I/O and other Ethernet and serial connected devices such as security cameras or industrial sensors.
Cellular RTUs
Cellular M2M Accessories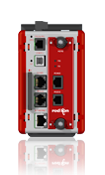 Communication Converters
Protocol Converters
Communication between devices from different manufacturers can be difficult but Red Lion takes the hard work out of protocol conversion by supporting more than 300 industrial protocols. Communicating with Allen-Bradley, ABB, Schneider and Siemens equipment is a breeze using Crimson's drag-and-drop mapping functionality. Red Lion offers the industrial industry's only protocol conversion and data-acquisition system that communicates data to your PLC with a few simple clicks.
Media Converters
Red Lion's wide line of Ethernet media converters are designed to not only extend communications links, but also bridge connectivity between disparate types of media, connectors or speeds. Providing fast performance and rugged operating specifications, our DIN-rail mountable media converters include copper, fiber, Fast Ethernet and gigabit options.
Serial Converters
Red Lion offers various converters to make your job easier. Choose from simple serial converters to drag-and-drop configurable Ethernet gateways for Red Lion panel meters.
Communication Converter Accessories