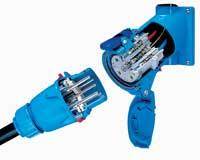 Meltric Decontactor Plugs and Receptacles
Meltric's Decontactor Series products are a combination plug and receptacle and disconnect switch in the same device. With their unique ability to withstand high in-rush current and their compact, watertight and dead front design, they are the perfect choice for the "line of sight" disconnect required for motors and other inductive or resistive loads.
Each Decontactor is UL/CSA horsepower and switch rated and has at least a 65kA short circuit make and withstand rating.