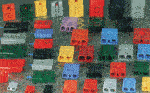 EuroComp Cable Connectors
Eurocomp, inc. Is introducing the rema line of genderless pluggable power connectors. These high quality modular single and dual pole connectors are constructed of polycarbonate housings and silver-plated copper crimp contacts, for superior conductivity. Rema has a complete line that works well in most power applications, including battery motive, power supplies, lighting, electric vehicles and ups systems. The wire range acceptance is from 16 awg through 3/0, and rated 15 amps through 350 amps at 600 volts.

The sr series is a dual pole version with grounding options available and the mc series is a single pole version capable of being dovetail stackable for multiple poles and keying. Both series are available in many colors and sizes, which allows for keying and line identification. Each housing incorporates a stainless steel leaf spring, which secures the contacts in the housings and creates a vibration proof connection. The mating process, a continuous self-cleaning design feature, virtually eliminates contact resistance and corrosion problems. The rema products are very competitively priced, and available for immediate delivery from eurocomp's inventory.