Anderson Power Products, Power Pole Connectors
Each power pole module is genderless, single pole connector half, which can be dovetailed together in-line or stacked into customized, multi pole blocks. Anderson Power Products is an industry leader in the manufacture of high current, quick-disconnect power connectors and provides a variety of interconnect solutions for the material handling, battery motive, telecommunications, medical, power electronics and other industries. Our connectors are available from 10 to 700 amp maximum ratings for use through 600 Volts continuous, AC or DC operation. Most are genderless interconnects. They are available to handle 600 volts continuous, AC or DC operation for control circuitry and power supply wiring.We are well known for our ability to develop creative solutions for our customers' power interconnect requirements. We are flexible and will make modifications to standard products or develop complete custom solutions to satisfy particular customers' needs. APP provides a complete engineered interconnect solution for all types of power distribution needs.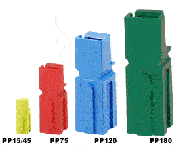 Features
Flat wiping contact system
Interchangeable Genderless design
Colored, Modular housings
Polarized housings
Wide product range - From 10 amps through 180 amps
UL94 V-0 housing material
Benefits
Allows for minimal contact resistance at high current, wiping action cleans contact surface during disconnection.
Simplifies assembly requirements and reduces parts inventory.
Allows customized multi-pole configurations with visual color coding to match wires.
Prevents damage to connectors from being mated incorrectly.
Allows versatility to choose product best suited to design requirements.
Provides security in knowledge that the connector chosen meets strict UL flammability ratings.